WHETHER YOU WANT A LIGHTWEIGHT CROSS-COUNTRY ROCKET OR A CHEAP TRAIL RIPPER, ONE OF THESE PICKS WILL WORK FOR YOU
While mountain bike categories remain unchanged, the bikes that represent them continue, in full force, to get better. Way better. Plus-size-tire widths are shrinking while XC models are getting wider—resulting in better traction, lower pressures, and lighter weight. Dropper posts, for the most part, have found a permanent place in the parts spec. Travel is growing across every category, and suspension itself is unbelievably dialed. Some riders are even loading up full-suspension models for backcountry, multiday adventures. To choose this year's Editors' Choice mountain bikes, we meticulously sifted through every option on the market. Based on our experience shredding the most noteworthy bikes and component groups, our knowledge of models past and present, and overall value (you'll be amazed at what your money gets you these days), we narrowed the list to 50 trail, XC, enduro, all-mountain, and gravity bikes. Then we put tons of miles on them, from Pennsylvania to Colorado to Southern California, to see which ones we could send farther, launch higher, and ride faster. We took gravity bikes to lift-served parks, trail bikes on all-day excursions, and enduro and XC bikes to races. Based on how well the bikes performed in their respective categories (or how well they crossed over into others), the amount of stoke they evoked, and their overall value, these are the bikes we recommend without reservation. As one tester said about the Editors' Choice–winning Marin Wolf Ridge Pro, "We love that the company boldly took a chance on something different and made a special machine." Speaking of special machines, here are 10 we love.
DEVINCI SPARTAN GX EAGLE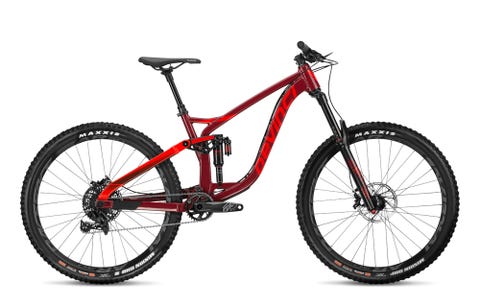 Notes from testers read like a highlight reel: "Maybe the best 27.5 enduro bike I've ridden" and "Price, parts, handling—this bike has it all. There's nothing I'd want to change." Accurate observations considering that, for $4,000, you get RockShox suspension (front and rear), a SRAM GX Eagle drivetrain with a Race Face crank, and Maxxis Minion tires (which happen to be one of our favorites). Add a Rockshox Reverb dropper, and the alloy-frame Spartan is the whole package. On the trail, it's balanced and nimble, performs well enough on climbs (admittedly not its specialty), and has the chops to see you through your chosen line.