THESE 10 MOUNTAIN BIKES ARE THE BEST OF THE BEST
We started with a mission: to find the very best mountain bikes of 2017. We gathered nominations from our editors, who together ride hundreds of mountain bikes per year. We then chose the most exciting bikes from the bunch—we factored in value, class-leading technology, performance, and more. After many hours of riding (and much heated discussion) we arrived at the final list of 10 bikes. These bikes transcend "great" —we can recommend them without reservation to their intended riders. All of these winning bikes bikes were tested over a week on the phenomenal trails in Bentonville, Arkansas. We liked them so much, we are offering an exclusive, four-day guided tour of the region's most exciting trails. The following bikes are some of the most capable, versatile, and technologically advanced on the market—and they're this year's winners of our highest award.
Specialized S-Works Epic HT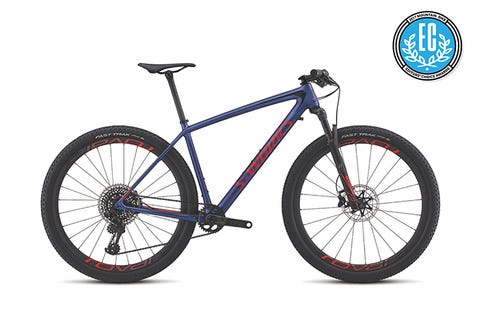 Fantastic, sharp, light handling: These were just a few of the adjectives tossed out when we discussed the Epic HT. This racy cross-country hardtail boasts the lightest frame that Specialized has ever designed—and that includes both road and mountain models. Riders found it to be super controllable, thanks to the extra meat of the 2.3-inch front tire and wide rims. It scrabbled up steep ledgy climbs with poise and balance more akin to that of a trail bike. Add a 50mm dropper post(easy to do with internal routing and an extra port for a dropper's added line) and it might be a best bet for a super fun, lightweight, agile all-rounder and XC rig. Wide-range XX1 Eagle gearing and wide, light carbon wheels poise it as a champion ascender, while SRAM's Level brakes offer good control on the downs too.